Why choose Money Exchange?
Simulate your money transfer to GAMBIA
Why choose Money Exchange?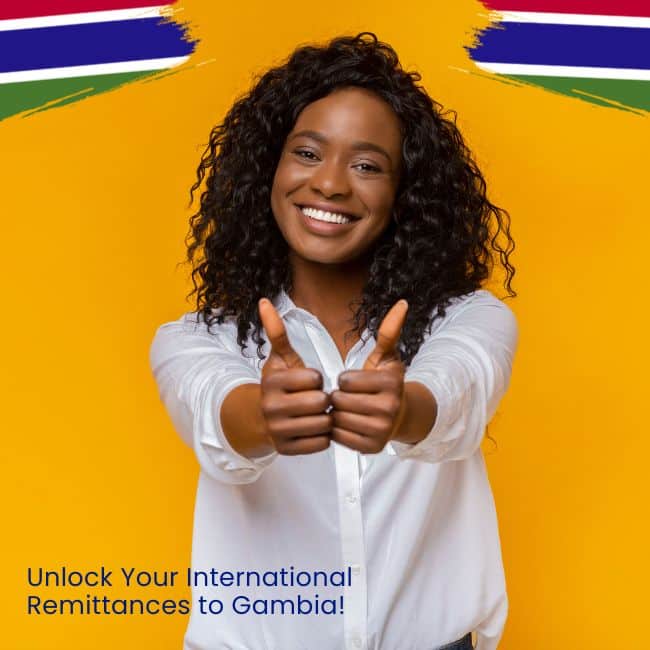 Unlock Your International Remittances to Gambia!
Payments in Dalasis.
 Experience the Power of Our Gambian Dalasi Exchange Rates
Welcome to our dedicated platform for international remittances to Gambia! At Money Exchange, we understand the hard work you put into sending money back to your loved ones in Gambia. That's why we're committed to ensuring you get the maximum value when converting your currency to Gambian Dalasi.
Explore Competitive Exchange Rates
Our user-friendly website offers you the ability to compare and preview our exchange rates for a seamless money transfer experience. Calculate exactly how much your transfer will be in Gambian Dalasi. Whether you're converting US dollars, euros, pounds, or any other currency, we've got you covered. It's never been easier to make informed decisions about your remittance.
Your Trusted Partners in Gambia
Across Gambia, our vast network of payment points is strategically located to make it convenient for your recipients to collect their funds. Whether your family resides in Banjul, or you need to send money to Serrekunda, you can rely on us to deliver your funds wherever you need them. Wondering who our agents are in Farafenni or how long it takes to pick up money in Sukuta? We pay for your remittances to Gambia in cash. We have have hundreds offices across the country through our partners. Easy financial, Yonna Forex,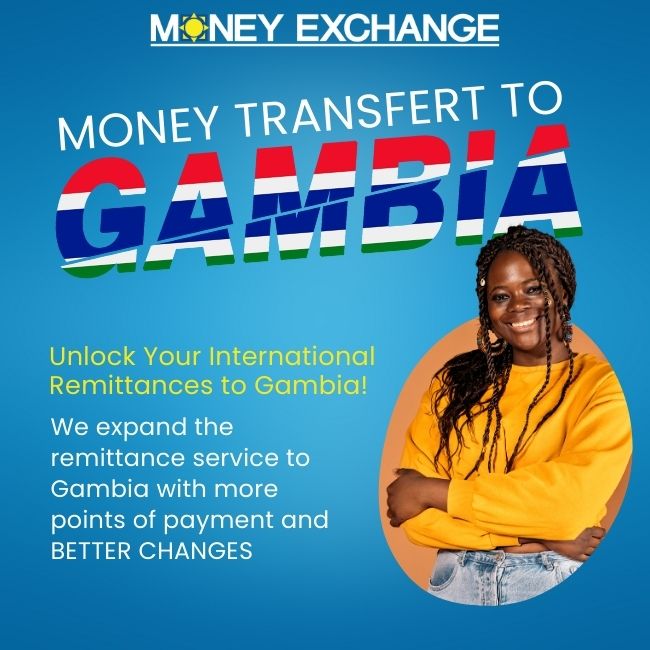 Send money at any time of day
Track your transfers in real time
Fast remittances with recurring transfers
How do you sign up?

Register online for free. Fill in the information requested in this link, complete the verification requested by the system, and you will instantly be able to transfer money.
How and when is it paid?

Latin America, Europe, Asia, Africa. We reach over 180 countries across the world. In just a few clicks you can make a transfer to your recipient's closes payment point, their bank account, or to a mobile wallet. We work with biggest remittance agents in the world, providing you with the best quality and services to make your transfers.
How do you pay?

We have secure and encrypted payment systems, with a wide range of options to meet your needs. We make it easy. You can use the Bizum system, bank transfer, or card payment. Choose the option that is most convenient and simple for you.
What if you have problems?

Don't worry, here at Money Exchange we are always looking out for the needs of our customers. We have a great local support service. You can reach us at our Call Centre 917617170, through Chat, WhatsApp 601270496, or at any of our 30 offices in our national network. Get in touch!